Nonprofit organizations rarely give much thought to the interior design of their offices.
But they should.
An article by the Journal of Public Affairs (which studied the relationship of office design on bank employees) found that office design does impact the productivity level of employees. Recognizing this, companies like Google and Cisco have given their offices a makeover to meet the needs of a mobile workforce.
Unfortunately, many nonprofit organizations fall prey to cluttered, dirty, and unorganized offices. Many nonprofits believe they don't have the money or resources to do any better. Some even believe having too nice of an office will discourage potential donors (arguing that if they appear to have money, no one will want to give them any).
To the contrary, having an ugly office doesn't make me, the visitor, want to donate to your cause. It makes me want to run.
Having an unorganized mess for your office makes me think your nonprofit is an unorganized mess. I start to worry you don't have a good volunteer system in place, so I never sign up to get involved.
Having an outdated look makes me think your organization doesn't have a future. They were effective once, I think, but is there any longevity to this organization? Do I really want to invest my time and money in something that might not be here tomorrow?
Improve the effectiveness of recruiting and retaining volunteers/donors by improving the look and feel of your office. Below, I provide some ideas on HOW to do this.
**Note: It's absolutely true that nonprofit organizations have little funds to work with. Instead of pulling from funds that should be used to further your cause, get creative. Ask local furniture stores to donate clearance items. Seek out striving artists and ask to hang some of their work in your office. Go to the local college and ask photography students to come capture your volunteers in action. It'll add to their portfolio, and you can always ask for copies of the images to display. Google ideas to re-purpose old pieces of furniture and do-it-yourself projects to save money. It's not about envying what you don't have…it's about bettering what you do have.
Five Ways to Re-Think the Office Design of Your Nonprofit
1. Use interior design to encourage employees and volunteers to collaborate.
Think open floor plans, bright colors, and comfy lounging. (Ditch the cubicles, cold metal appliances, and bland colors.)
2. Don't be intimidated by small spaces or spaces that need some fixin' up.
Nonprofits are often overwhelmed finding an office space, much less decorating one. For information on securing an office location for your nonprofit organization and dealing with lease negotations, read Setting Up a Nonprofit Office. Once you've found a location, learn to love what you have…and work with it. Just check out what one small business owner was able to accomplish with an industrial office.
via Young House Love
3. Optimize your front desk!
Your front desk area is often the first interior area guests see. Foremost, it should be inviting. Make your welcome desk easy to access, clearly identifiable, and…well…welcoming. Keep the desk area organized and free of clutter. This will assure your guests that you have a well-run organization–one they can rely on. Consider adding a comfy seating area for any guests that are waiting. And don't forget that lighting is one of the most effective design secrets!
Via Google
4. Use design to inspire.
Your office should be a reflection of your cause and your goals. Cleverly placed wall quotes and inspiration photos do the trick nicely!
via ID3 Interior Design
5. Promote, promote, promote!
Use every opportunity you find to attract more volunteers and donors. Splattering advertisements across all of your office walls may be a little extreme, but the visitor clearly gets the message. For a more subtle approach, never underestimate the effectiveness of well-placed volunteer brochures, framed accolades, and photos of your work.
Whatever design elements you choose to incorporate, remember to keep it simple. Clean lines, organized materials, and consistent color choices are essential to streamlining your nonprofit's office. By making these changes, you'll be sending a clear message to your guests (and employees) that you're a nonprofit they can trust.
What are some of the best…and worst…designed nonprofit organizations you've seen? Did it affect your impression of the organization?
The importance of teamwork in an organizational setting, Ethnicities and backgrounds. another important reason for teamwork in an organization is the different backgrounds and ethnicities of people working in a single. Why designing your nonprofit culture is do or die, Culture is about your values, not throwing pizza parties or sending funny office emails. your nonprofit culture determines the work you do.. Learning solutions 2015 conference & expo - concurrent, Learning solutions 2015 conference & expo - march 25 - 27 | orlando, fl.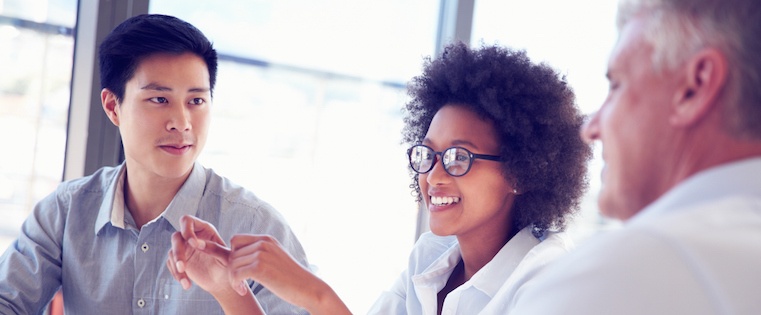 News – the center for craft, creativity & design, Unc asheville and the center for craft, creativity & design (cccd) have partnered to launch the center for creative entrepreneurship. the new center will create an. 10 ways to immediately invest in your nonprofit organization, 1. invest in your people. your biggest asset is your people. if a good thing to spend money on is something you depend upon every day, what's bigger than the people. Understanding and drafting nonprofit gift acceptance, By kathryn w. miree, jd. gift acceptance policies are rarely adopted at the inception of a nonprofit organization's fundraising program. early development activities.
Getting replication right: the decisions that matter most, Authors' note. are you sure that replicating is right for your organization? and if so, are you ready? this article is intended for nonprofit leaders who have already. Cultural space - arts | seattle.gov, Cultural space includes all spaces whose primary purpose is to present or support artists and their art. cultural space includes all arts presentation spaces.. 37 visual content marketing statistics you should know in 2016, At the beginning of every year, we like to read through some of the major reports on inbound marketing, content marketing, social media, and online behavior..