So, I left you off last Tuesday with some information on picking good vendors that share the same values as you, with a promise to talk about favors today. So here it is!

Wedding favors. Ohhh how the topic can be such a source of discussion. You will find all sorts of threads over at WeddingBee or TheKnot or on blogs discussing the pros and cons of doing wedding favors. To some, it's a tradition that should be kept. To others, it's a waste of money. To us? It's an easy opportunity to give back…to try and promote a small charitable act during the wedding process.
Giving the wedding budget over to charity is becoming a hot trend. At the most basic level, it works by giving a donation to your favorite charity or charities and then giving your guests a small card which says you have given a donation to charity instead of (or in lieu of) a traditional wedding favor***. Because of this growing trend, the opportunities are endless should you want to make a charitable donation in lieu of a favor:
Can't get past giving up a physical "favor"? Love chocolate? Check out Truffles for a Cause! Or check out what Up and Away did!
Lucky in Love made the process personal with her DIY "cast your vote" favors.
(all credit for this photo given to Lucky in Love)
Love the environment? Want to help the poor? Read about real couples' wedding favors for a cause here.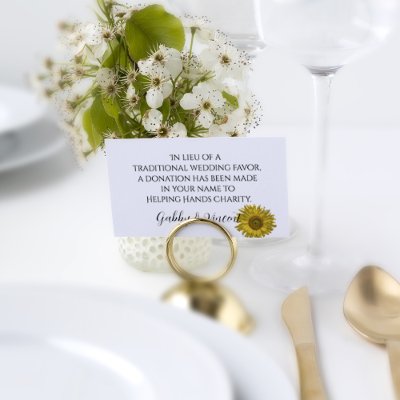 Has someone you known suffered from breast cancer? Consider handing out pink ribbon ornaments as a favor (for more info., click here).  Even cuter? Adorn them in pink ribbon boxes!
Seriously, the opportunities are ENDLESS! Simply google "wedding favors for a cause" or browse the WeddingBee threads, and you'll already come up with a ton of ideas.
Remember, though, that just because you don't see something you particularly like doesn't mean it can't be done. All not-for-profits would gladly welcome your donation to their cause and will assist you in making your favors memorable. Contact your local humane society or homeless shelter, explain what you are looking to do, and ask if it would be okay to place their name and website on wedding favor cards.
Whatever you choose to do, make sure you are doing it because you want to do it and not because it's a new "trend" and you feel obligated to do it. The wedding day is YOUR day. If you want to give traditional favors–do it! If you want to make a donation to a charity–do it! If you want to scrap the favors altogether–do it! Whatever you do, do it for you and make it personal. Your guests are more likely to appreciate a thoughtful, honest gift than anything else!
***Keep in mind that many places now offer charity favor services, including pre-printed cards to give to your guests. It is ultimately up to you whether you want to tell your guests the chosen charity/amount of donation.
Are you considering wedding favors for a cause? What are your thoughts on this new trend?